Production and distribution productivity is crucial to the success of any manufacturing company and, therefore, should become a top priority for business owners. Despite the well-known fact that improving efficiency reduces overall costs and saves precious time, many companies still haven't made any changes.
With the rise of automation and digitization solutions, such tools have become a necessity to succeed and outperform competitors. Therefore, in today's article, we're going to discuss how manufacturing businesses can improve production efficiency and what modern ERP solutions can offer to address this.
Managing sales orders closely
Without the proper information on sales orders, it's challenging to look at the bigger picture and analyze the outcome. Many companies still use obsolete spreadsheets that make this process tedious and time-consuming. Moreover, human errors are inevitable in this case, which can lead to a complete disaster if just one number is written incorrectly. An ERP allows using a common database, tracking sales performance and quickly adapting to changes if necessary.
The 1C:Drive ERP solution offers detailed information on sales orders, including dispatching, payment, the level of activity of a customer, whether an order is still active and its overall status. When products are selected, you can make the profit estimation to make sure that you are within the threshold of profitability. Additionally, all the sales orders' history is saved in the system. It's particularly useful if a user needs to repeat the exact sales order or check its terms.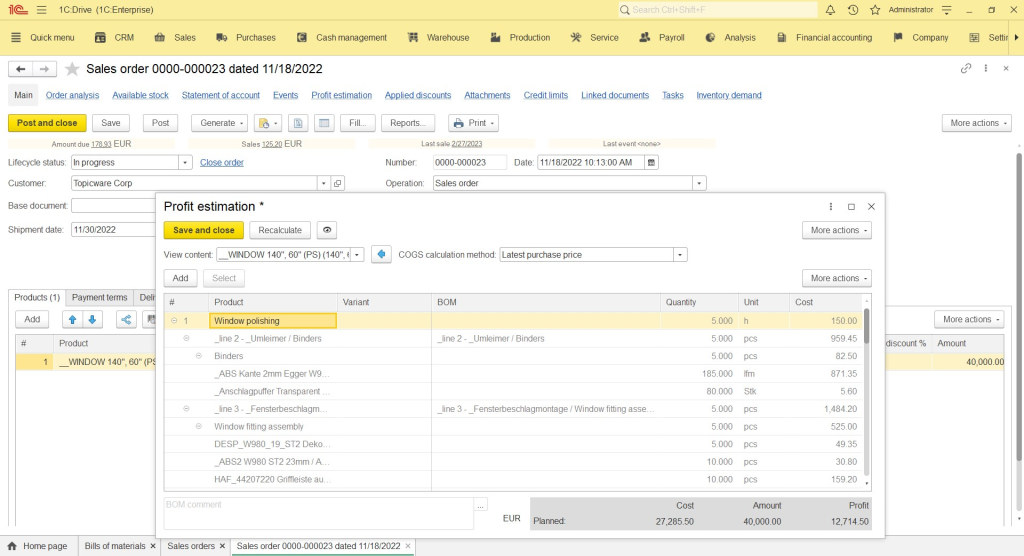 Creating a seamless inventory management process
To streamline the product lifecycle, a comprehensive inventory management process is necessary in order to match production with the demand. An ERP system provides tools and methods to create an integrated manufacturing process. It allows manufacturing companies to minimize the waste of materials and lowers the chances of insufficient stock.
With 1C:Drive, for instance, you can define which goods are dispatched first, separate the company's own goods or goods received from third parties, and be aware of the cost of inventory consumed when completing work orders.
In addition, the system can be particularly helpful in managing the production of multiple product variants. It enables manufacturers to quickly and easily create and manage BOMs (bills of materials) featuring multiple components of each product variant, including raw materials, production processes, and delivery schedules. By using standardized procedures and workflows, manufacturers can ensure that each product variant is produced consistently and to the same high standards.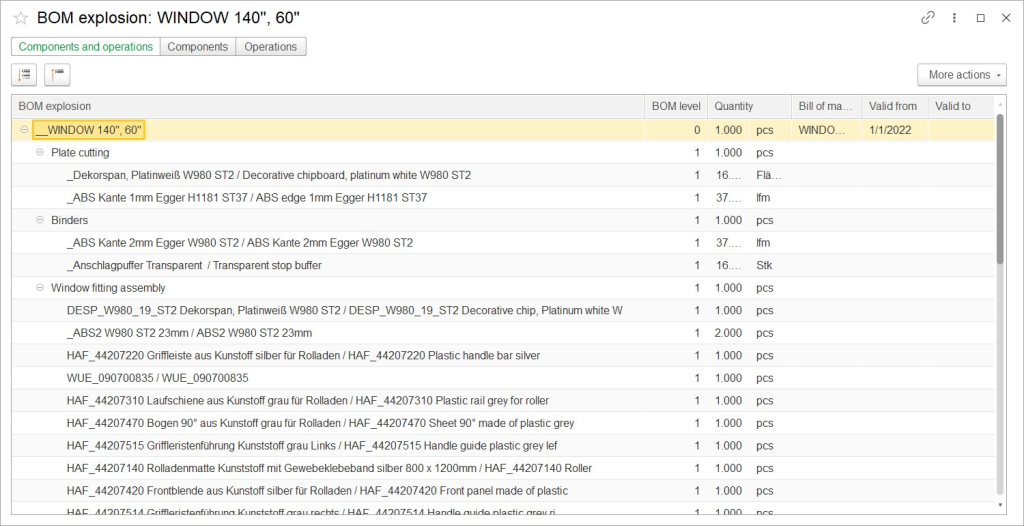 Monitoring and optimizing production processes
Lack of automation doesn't allow managers to plan the production lifecycle efficiently. The manual approach often results in errors and an inability to determine the real costs and resources needed to accomplish the project. Consequently, manufacturing companies adapt to changes too slowly since their forecasting is based on historical data, which is usually insufficient.
By utilizing an ERP system, production managers will be able to monitor and plan all production processes in a well-organized manner. Such software helps managers to:
Control costs at every step of a production chain;

Plan a load of production based on market trends and raw materials' availability;

Analyze stock balances on the go to be prepared for demand spikes;

Get full insight into a particular product's profitability.
Enhancing transparency across all departments
If there is an issue occurring during the production process, it's extremely challenging to spread the information across the entire company quickly so that there are no interruptions in the process.
With the ERP system, however, this issue is easily eliminated. The software provides the visibility of every department and gives access to the accurate and updated information in real time. This helps the communication and coordination of all ongoing operations to be improved. For instance, 1C:Drive ERP solution gives a notification that something isn't going as predicted. It allows managers to get approval from their heads to make amends and continue the process. Thus, the ERP helps every process to be transparent for all team members.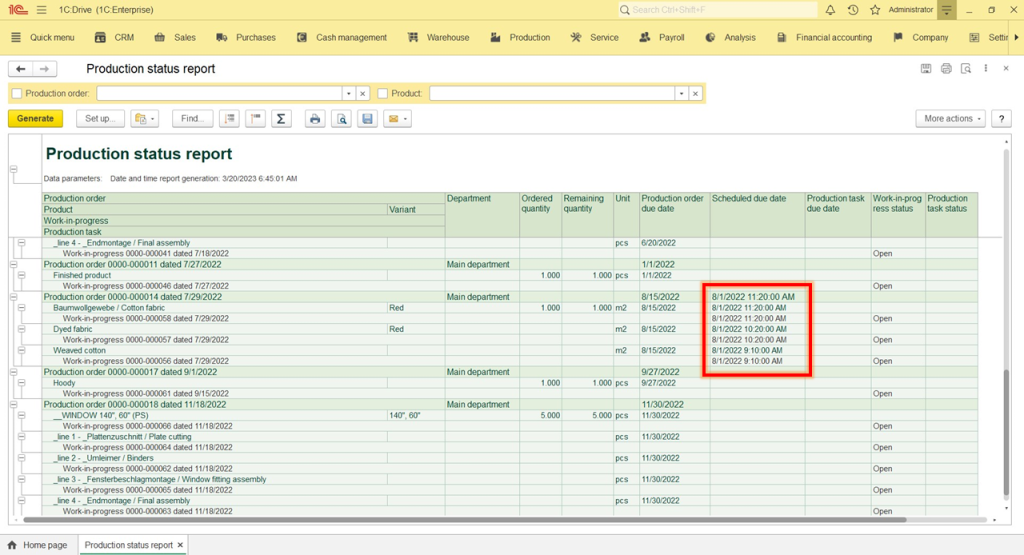 Estimating cost and profitability
Detailed financial analysis is paramount for any business. When the production processes are precisely aligned with the costs involved, there is less waste, which tends to be expensive. However, without a proper tool, the accounting department can't calculate profits and losses clearly and make solid predictions. Most importantly, it's impossible to analyze them customer by customer and, therefore, build further strategy.
With the ERP system, the cost estimation becomes clear for the accounting and other departments. For example, in 1C:Drive, you can get detailed reports on planned and actual costs. Since all the operations are reflected in the ERP in real time, managers can easily analyze the overall profits and losses. Furthermore, profitability can be calculated separately by product lines, product groups, product types and customers. Thus, it's much easier to decide what business field is more important to invest in.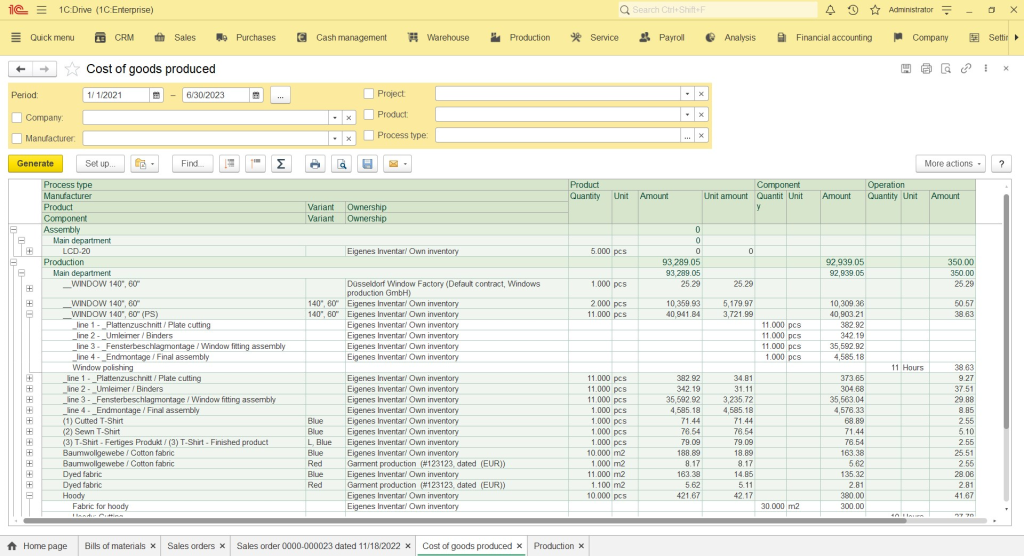 Bottom Line
As we can see, in 2023 automation and digitization trends in the manufacturing industry are going to be reinforced since these tools provide companies with business intelligence allowing them to adapt to changes quickly and prosper in the long run.
According to statistics, the utilization of an ERP system can help businesses reduce their operational costs by 23%. Moreover, with all processes connected through the sole system, it's much easier to identify inefficiencies and make changes accordingly.