Today we will talk about how manufacturers can transform their offline businesses to move them online and start their e-commerce journey.
For a long time, many small and medium production companies stayed away from online selling. Ecommerce was often considered as something hard, risky, and low-ROI. However, the global pandemic and the massive shift to online has demonstrated the pros of being able to sell goods online.
First steps: launching a website, setting up business software
B2B buying journey may take months for enterprise companies. Just look at this illustration map by
Gartner
: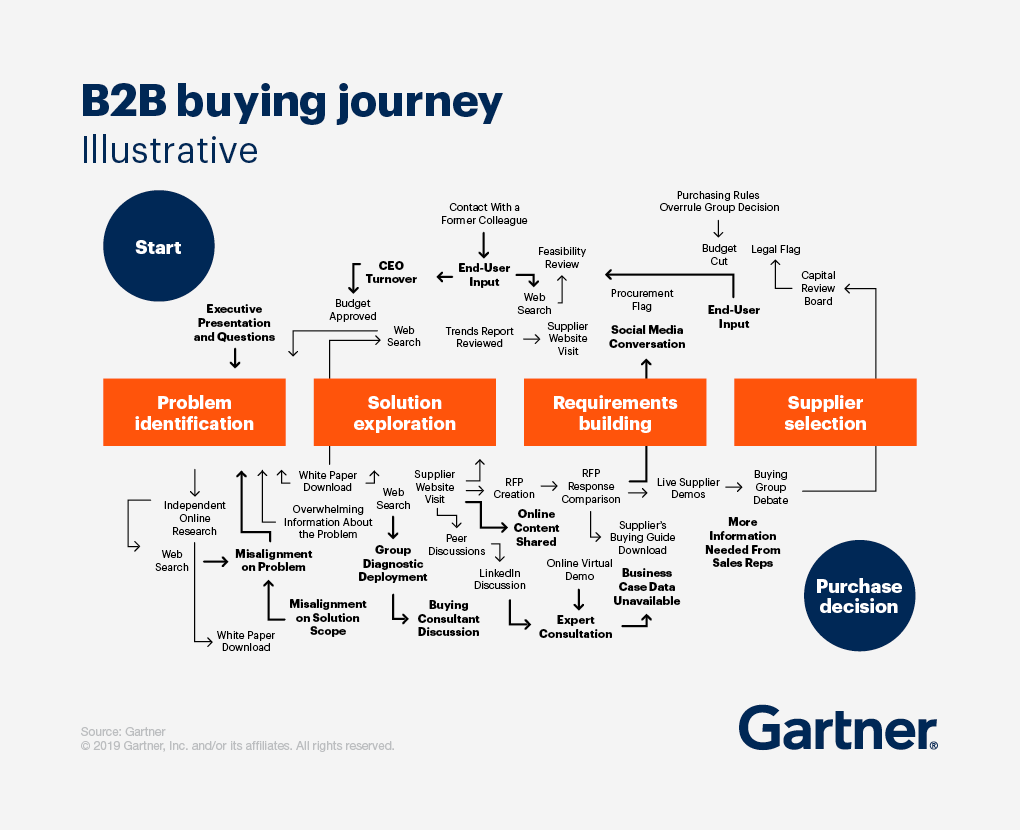 However, today, even B2B buyers heavily rely on digital channels while searching for suppliers, and this is a big chance for make-to-order companies to get started with ecommerce. They browse websites to evaluate the quality of goods sold, read online reviews, etc. For SMB looking to purchase something unique from the make-to-order manufacturers, that may mean a much shorter journey to the purchase.
So, to process such cases first, the production company that is willing to kick-start its ecommerce presence should start by building a website. It should feature photo and video examples of previous produced items, thorough description of manufacturing processes, customer testimonials. This is a basic set of UX elements that will allow potential customers to evaluate the work and get in touch.
The second step is implementing the whole purchase flow, including cart and checkout. Real ecommerce starts when the customer can make a purchase with no need to contact someone at the seller's side. Things like item comparison, easy-to-search product catalogs, are good to have as well. To shrink the development time, you may want to go with a ready-made ecommerce engine like BigCommerce Headless, Salesforce Commerce Cloud, or Magento Commerce.
Diving deeper: implementing business automation software
In the beginning, having a website to make a purchase with no additional business software may be fine. You may collect orders in Excel and manually process them. However, as the volume grows, manual order processing will lead to errors and lost revenues. Key pain points production companies face due to the lack of automation are:
Lack of flexibility. In ecommerce, changes and cancellations of orders are common. However, the lack of automation may limit the ability of the production company to rapidly react to order cancellations to avoid situations when the customer has already canceled the order. If not done, such a situation may lead to production of an item that the customer does not need anymore.

Unnecessary idle time and equipment readjustments. In make-to-order, every cancelled order leads to unnecessary idle time and machine readjustments. Idle time is a pure loss, while readjustments also negatively affect the quality of items processed before all parts of the equipment start working smoothly.

Inefficient planning. Warehouse management and resource planning are key for ecommerce, ask anyone at Amazon. Lack of automation here may lead to erroneous estimates for materials to order, which may lead to overstocking or inability to process the new order at a specified time.

These problems may be solved by implementing ERP software. However, not all ERPs are suitable for make-to-order companies. Such businesses, by design, have lots of custom business processes, which rarely fit well into the out-of-the-box solutions. Still, it may be a great idea for SMB make-to-order production companies to implement the 1C:Drive ERP. This tool is designed to serve SMB production companies. The software is adjustable and helps manufacturers with material resource planning and lead time calculation.
Also, the system provides an extensive production planning tool, including Bill of materials (BOM) management and materials planning. ​Integrated data flow and sophisticated automation allow businesses to always understand the production lead time, equipment availability, materials, and components. Such ERP will fuel your make-to-order ecommerce and unlock the growth points.
Identify items that are good for online selling
Not all goods manufactured by make-to-order companies can be easily sold online. Sometimes it is hard to understand what type of items will be good for ecommerce, and what won't generate sales. To set up your ecommerce catalog, you'll have to run a bunch of experiments. Uploading the whole catalog and pouring resources into creating catchy descriptions and great visual content for every item, may not be an optimal solution.
Instead, it is a good idea to divide the catalog and start by putting online only items that are easy and fast in production and delivery. This will fit into a regular ecommerce customer journey map and allow maximum automation of the whole process.
For the products that can't be sold online due to some reason, it is better to create a dedicated landing page with a lead magnet section. A thorough description with good visual content and a contact form will allow you to capture leads and get them into your offline sales funnel.
Scale
Once you've launched your ecommerce website, identified goods that can be sold online, and automated business processes with ERP, it is time to scale. Happily, you are online now, so there is no need to hire more sales reps to get more leads. Instead, you can invest in SEO and content marketing so that your ecommerce website will pop up on search engines for relevant queries. Selling online may even unlock new markets, including other regions within a country, or cross-border sales.
Sure, to scale successfully and avoid growth-related problems, you will need proper business automation software that will help you to efficiently plan material and equipment usage, analyze delivery options, and track the lead time.
Final thoughts: Why does ecommerce for make-to-order make sense
To sum it up, let's go through main advantages of getting your make-to-order production business online:
Direct access to customers. When selling online, you can get direct access to customers no matter where they are located. Even better, people will find and contact you by themselves, without the need to spend tons of resources on cold calls and lead generation.

Opportunities to innovate. The more customers you get, the better you will understand what they need. Such insights form a unique baseline for developing unique value propositions and advance your production process for better results.

Scalability. Production companies that do ecommerce can increase sales just by working on their SEO and content marketing, not searching for new distributors or sales reps. This approach is much more cost-effective.

Improved efficiency. To be successful in ecommerce, you should have great UX and performance of your website to get more orders. Also, to manage them, plan your warehouse, and equipment load, you'll need a flexible ERP solution. All these factors will make your business much more efficient than it could be in an offline-only mode.